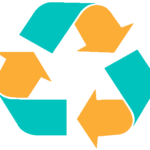 Recycle Everything!
On an annual basis, we recycle over 1,500 tons of paper, 6,000 pounds of ink, and 41,000 pounds of metal printing plates in addition to other materials.
More than 30 years ago, Charlie Igram realized the importance of recycling to the printing industry and future of Cedar Graphics. During the 60's and 70's, we began recycling many of our raw materials, like aluminum plates and scrap film, to help our bottom line. Charlie utilized the profits from our early recycling efforts to pay off debt and raise capital.
Decades later, even less goes to waste at Cedar Graphics. We are committed to being stewards of our community and environment. Not only does Cedar Graphics use recycled materials whenever possible, we seek to make a smaller environmental footprint in all areas.
In 2013, our green commitment resulted in saving:
14,780 trees
6,085,730 gallons of water
330,368 gallons of oil
Electricity to power 435 homes for a year
70,421 cubic feet of landfill space
As a leader in our industry, we've also eliminated the use of numerous hazardous chemicals in the printing process.