On-Demand Printing &
Web to Print Ordering
Web-to-print services through Cedar Graphics are an excellent choice for organizations needing to mobilize sales teams, keep multiple locations in compliance, or ease over-worked creative departments.
Print personalization
Provide us with your company's documents and we'll transform them into online templates for customization, complete with your fonts, leading, and design rules.
Organizational Management
When implemented into an online store your print ordering and budgeting is controlled in real time via our automated proofing and approval workflow.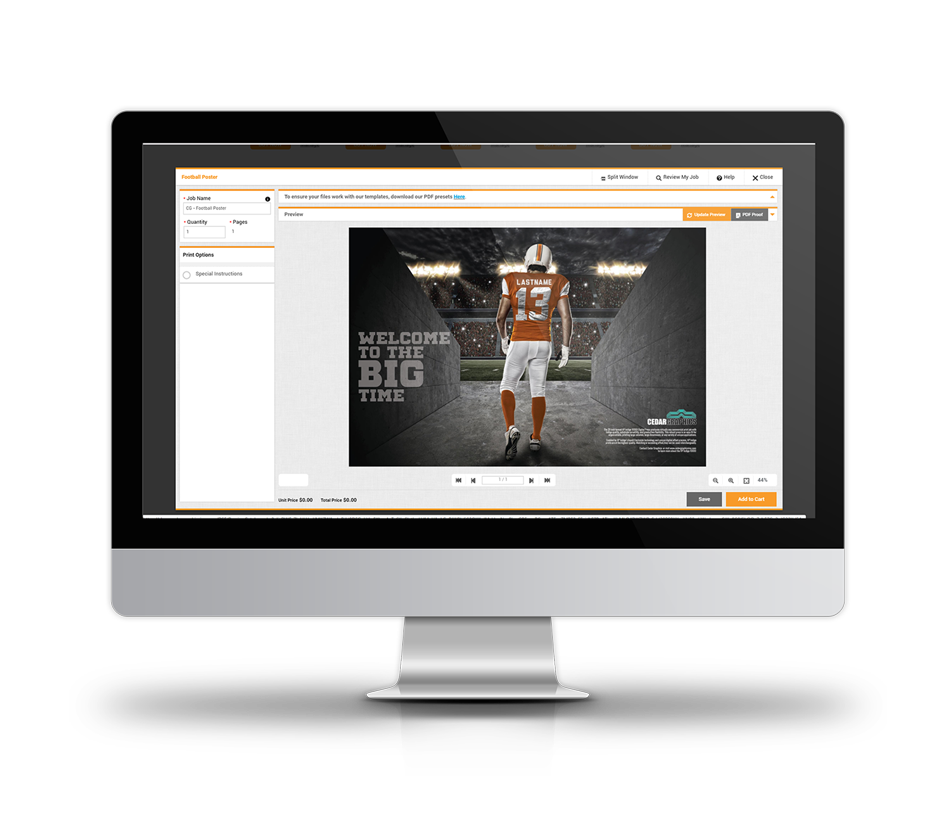 MANAGED PRINT SERVICES
Web to Print Services
that Work for Your Business
Combining our on demand printing and fulfillment services with web based ordering allows your orders to skip right to the presses and onto the shipping truck in just a couple of business days.
With clients ranging from Fortune 500 companies to independent graphic designers, don't worry, we can build something that is just your size. Not ready for a full site or only have a few products to produce and fulfill? Give us a call we have a simple solution just for you, too.
Custom Developed Storefronts
With a few short meetings we can develop a private labeled website for your organization, allowing your employees or customers to personalize their own materials, access brand assets, or even schedule direct mail or email campaigns. Products and checkout requirements can be different for various departments and billing requirements.
XML / API Integration
Already selling products online or have an internal procurement system? We can still help. Our on demand printing and fulfillment systems can easily communicate with most any web based platform. We'll provide you with an XML schema to send us your orders. We'll produce as requested, even ship under your carriers and name if needed.
Maintain brand consistency

Centralized purchase management

Streamlined approvals and costing

Reduced obsolescence by printing on demand

Maintain internal accounting standards
Reduce print cost

Create new profit centers

User customization and personalization

Faster turn times and instant proofing

Empower multi-location organizations and sales teams
LET'S PRINT SOMETHING AWESOME TOGETHER
LEARN MORE ABOUT ON DEMAND PRINTING
How does web to print work?
1
Pick Your Items
Give your employees or customers instant access to your company's branded products or printed materials. Cedar Graphics' web to print solutions makes ordering easy. Whether your company needs business cards or beach balls, we can print, fulfill, or both.
Your employees can now order exactly what they need, exactly when they need it.
2
Personalize Them
Business cards, direct mailings, posters, wall graphics, and more can all be personalized instantly and available for instant proofing and printing. Each user can personalize your company's collateral materials as you specify and order them as they are needed.
You decide the level of customization needed, we make it happen, simply.
3
Proof Them
No more waiting for proofs. Users can easily proof and make any necessary changes. Downloadable PDF proofs are also available for both users and managers prior to printing. Variable items, like postcards, can also be proofed with all data.
Formatting is coded directly into the product, assuring accurate layout and quality finished product.
4
We Print Them
Our easy shopping cart style ordering platform keeps it simple for any user - simply add to cart, tell us when to ship your items, and where to ship. We take care of the rest. We ship through multiple carriers, internationally, even blind third-party.
Our web to print storefronts is scale-able and an easy to implement solution for any sized organization.
PRINT SOLUTIONS FOR COMMON PROBLEMS
Benefits of Incorporating a Web To Print System
Brand Consistency
Maintaining your brand's standards is the core benefit and heart of our web to print services. Starting with your standards coded into each product's personalization options and ending with your color profiles and paper choices optimized in our digital press room, we keep it simple for users and accurate for your brand.
Accounting Standards
Complicated revolving monthly budgets, accounting codes, and purchase orders are all no problem when combined with our shopping cart style ordering. You can require your users to supply any necessary internal billing codes. We'll organize it and provide it back to you for easy accounting and forecasting.
Reduced Obsolescence
Rapidly changing markets and legal requirements can be a headache when providing updated materials to employees and multiple locations. Reduce waste by printing these items on demand. We can easily update images, copy, or disclosures on materials plus track down previous versions to insure compliance and consistency.
Create a Profit Center
Take your products directly to market. Not only can we control and vary who sees your products, but also control shipping and payment options. Already have an existing storefront? Let's discuss how we can link our web to print and fulfillment services directly to your shop using XML.
Personalization
Using JavaScript, your PDF's and fonts, plus our software, users can update contact info, switch out approved imagery, or upload their own mailing lists. With web to print, we mobilize your organization as well as provide a flexible proofing and secure approval process.
Faster Turn Arounds
After approvals or payments your materials are dropped directly to our Indigo digital presses or wide format equipment for production. Items printed on demand can easily meet up with items stored in our secure fulfillment center for kitted shipping and automated tracking notifications.
GET IN TOUCH
Have a question? Ready to get started?
Web to print doesn't have to be difficult. Drop us a message and let's print something awesome together.