WHITE INK PRINTING SERVICES
Can You Really Print With White Ink?
Printing with white ink is commonly questioned by designers and ad agencies when touring our printing facility. For many commercial printers, printing with white ink is limited to offset printing utilizing spot or Pantone® (PMS) colors. As a result, it typically takes a fairly substantial production run in order to overcome the initial cost of set-up.
Not anymore. In order to provide an easier and more cost-effective solution for variable data printing and shorter runs, Cedar Graphics has upgraded our HP Indigo digital presses to print with white as well as transparent inks.
Using any of our HP Indigo digital presses to print with white ink, there is no need for additional printing plates, make-ready, or equipment wash-ups. We can even control the opacity of the white ink thus preventing problems on dark or metallic substrates.
White ink printing is even possible for short run printing projects without expensive set up and long turn times.
More Design Options And
Even More Substrates
For designers, white ink opens a whole new designscape of layers, opacity, and interacting with unique colored and clear papers and plastics.
Easy to Set-up and
Perfect for Short-runs
With digital printing on our HP Indigos, white ink is inexpensive and available for short runs, even variable data printing.
PRINTING WITH WHITE INK
Bright Ideas for
White Ink Projects
White ink printing options have typically been limited to white foil or traditional offset printing with expensive make-ready. With HP Indigo's new white ink technology, projects can be easy to set-up and less expensive to produce. But, how do you take advantage of this as a designer?
In most instances, white ink printing is reserved for colored substrates. However, the vast amount of substrate choices for HP Indigos means even more potentially inventive uses. Here are some things to think about when thinking of using white ink in your next project.
SO MANY SUBSTRATES
Colored substrates are the starting points for most white ink projects. Beyond your common color offerings like pink, black, or kraft stocks from Neenah or French is a whole world of uniquely crafted papers. Consider wood grain textures or any of the many metallic and mirrored finishes now available.
THINK "CLEAR"-LY
White ink provides a unique benefit for printing on clear substrates like plastic business cards or window clings - a light block. Printing inks are opaque by nature. This is especially noticeable on clear materials. Layering white ink behind your design makes ink appear solid by preventing light from passing through.
VARIABLE DATA PRINTING
Most white ink printing projects will be produced on one of our multiple HP Indigo Presses which are able to print a different image for each impression. This means you can take advantage of variable data printing, like addressing postcards, personalized calls to action, and more, all printed with white ink.
THINK WITH LAYERS
When designing for white ink imagine painting a colored wall. The darker the wall the more coats it will take to cover. Printing with white ink is similar, but you can design with opacity percentages and layers in mind. White ink can be printed behind or in front depending on the necessary application and design.
PRINTING INSPIRATION
White Ink Printing Portfolio
STARTING ON THE RIGHT FOOT
Kick starting your white ink printing project
Printing with white ink on our HP Indigo presses creates a new world of potential design choices. Taking advantage of these print capabilities is easier than you might think. Follow these few steps for perfect printing on your next white ink print designs.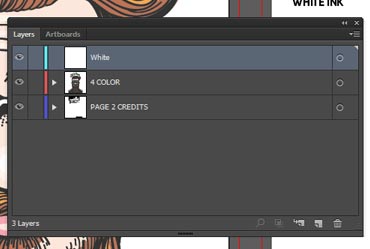 MAKE A NEW LAYER
When designing your print project you'll need to have everything that is to be printed with white ink on it's own layer. If not visible, the layers tap can be found under the Window menu. For easy identification by our prepress team and software, please put this layer at the top of your document's layers. It helps to name the layer "White".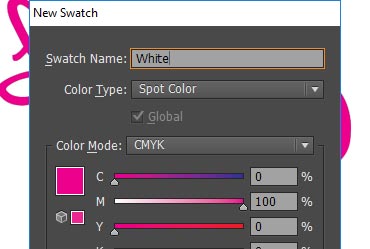 MAKE A SPOT COLOR
Next create a new spot color or channel. In Illustrator and InDesign this is found in your swatches panel. Your new spot color needs to be named "White", the capital "W" is necessary. For Photoshop users a new spot channel will need to be created. Remember, white ink is laid down first when printing. You'll need to knock out areas where you want the white to appear.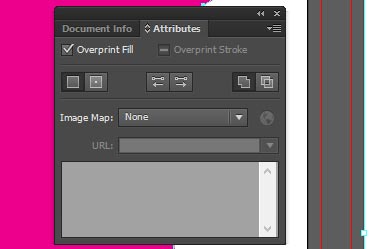 SET TO OVERPRINT
Overprint settings tell the press to print on top of the white ink instead of knocking it out. These settings are found in your Attributes panel. Look under the Window menu to activate your attributes panel. Select your white areas and check the box for overprint fill or stroke as needed. This will allow the white to be printed first, with your artwork on top.
GET IN TOUCH
Have Questions? Need Help?
Need help or inspiration for your next white ink printing project?
Drop us a line and we'll be happy to get you started in the right direction or provide you a print estimate.