POCKET FOLDER TEMPLATES, TIPS, AND TUTORIALS
Perfect Pocket Folder Printing
with Proper Preparation
At Cedar Graphics, we print and produce thousands of custom pocket folders every day. From simple nine by twelve two pocket folders to complicated multiple panel folders with unique coatings, foils, and die-cuts, we give every project the same eye for detail.
Follow our folder printing tips below or download any of our pocket folder templates for the best final product. We can help create an eye-catching folder for your next presentation or press kit that is sure to make a lasting impression. Have a truly unique pocket folder design in mind? Contact us and we can help bring any pocket folder to reality.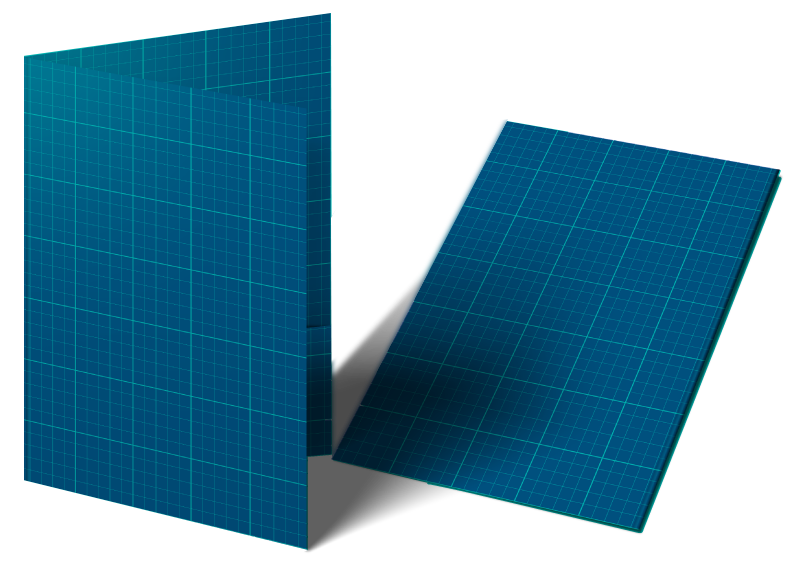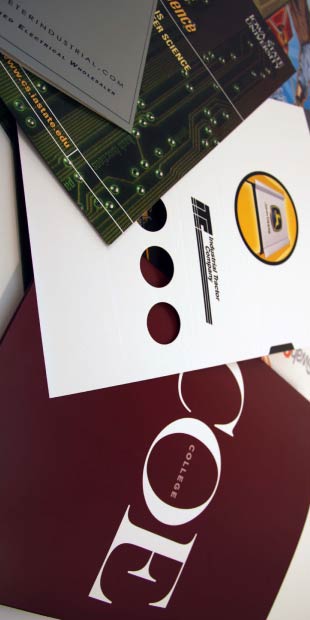 POCKET FOLDER TEMPLATES
Grab attention with these striking pocket folder templates
Why start from scratch? Use any of these pocket folder templates for a great design starting point as well as a great way to save money. Each of these templates represents a die we have in-house and ready to use. When your ready to print your pocket folders, please let us know that you've used one of these templates and you'll save hundreds in custom die-cutting costs as well as speeding up production time.
To lay out a pocket folder, use one of our layout templates. Content on the pockets should be upside down due to how the folder will fold after it is cut. Also, bleeds should only be set on the outside edges of the piece and must be .125" (1/8") in size, but the page size should be defined as the final trim size.
LEARN MORE ABOUT POCKET FOLDERS
How are pocket folders made?
1
Proofing
Perfect pocket folders start with preparation. Once we receive your folder artwork we double check alignment as well as complete our standard prepress checks for resolution, color, fonts, and more.
2
Printing
Depending on order quantity and design requirements (PMS colors, foil, varnishes, etc. ) your pocket folders will either be printed on our HP Indigo 12000 or with our UV Offset presses.
3
Cutting & Scoring
Once printed, your pocket folders will be trimmed and die-cut to your exact design. Scoring prior to folding helps prevent ink cracking resulting in a higher-quality and longer lasting finished folder.
4
Folding & Gluing
Finally your pocket folder will be completed by folding into shape and applying hot glue. With the proper preparation this is done in one fluid step. Check out this video to see this in action!
SELECT FOLDERS WE HAVE PRINTED
Our Pocket Folder Portfolio
GET IN TOUCH
Have Questions? Need a Quote?
We love printing pocket folders and print over a million annually. If you have any questions or need help, don't hesitate to ask. Let's print something awesome together.