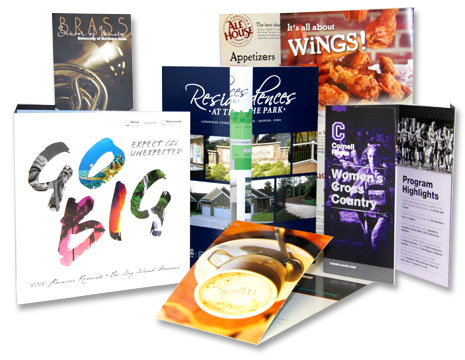 Brochures can be used to build an image for your company, promote an event, update product specs, or for a hundred other purposes. Make sure that your next brochure printing project starts off on the right foot with these downloadable templates.
The most difficult part of laying out any folded brochure is accounting for the appropriate panel sizes and paper thicknesses. Avoid costly layout mistakes by using one of our simple templates. Make sure you don't forget to include bleeds and crop marks!
FOLDED BROCHURE TEMPLATES
Start Your Next Brochure Printing Project off on the Right Foot
Multipage and multiple panel brochures can be tricky to design. Which panel is which size on which side of the sheet? Am I folding these correctly? Don't worry we've got you covered with our downloadable brochure templates. Each clearly identifies cut lines and folds so you'll have no problem printing your brochures with us.
Included in each .ZIP file is a PDF and Adobe inDesign and Illustrator versions of the brochure folding patterns. If you need help or have questions, please let us know. Happy printing!
LEARN MORE ABOUT FOLDED BROCHURES
How are folded brochures made?
1
Proofing
Perfectly folded brochures start with preparation. Once we receive your brochure artwork we double check alignment as well as complete our standard prepress checks for resolution, color, fonts, and more.
2
Printing
Depending on order quantity and design requirements (PMS colors, foil, varnishes, etc. ) your folded brochure will either be printed on our HP Indigo 12000 or with our UV Offset presses.
3
Cutting
Once printed, your flat piece will be trimmed down to its final flat size, following the designs crop marks. Flat brochures are then prepped for scoring and folding.
4
Scoring and Folding
After trimming, your brochures will be folded. For brochures printed on heavy stock, folds are scored first to prevent ink from cracking and resulting in a higher-quality and longer lasting finished folded brochure.
GET IN TOUCH
Have Questions? Need a Quote?