COMPARING STRIKE THROUGH COATING AND RETICULATING VARNISH
What's the difference between reticulating and strike through printing effects?
Even though no one seems to agree on whether to call it strikethrough, strike through, or strike thru, everyone can definitely agree it adds a WOW factor to your printing project. You've probably seen this effect used in packaging as well as product catalogs.
Cedar Graphics has the advantage of applying both of these effects on press during the printing run. This allows for better consistency, and (thanks to UV inks), faster drying times. The process includes a spot matte coating combined with a gloss flood coating. The main differentiation between the two effects is the texture of the matte areas when completed.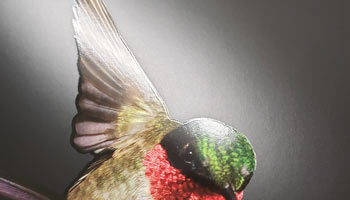 Strike-through Varnish
The matte areas of the traditional strike through coating remain much smoother. This is because the UV gloss coating will not easily adhere to the areas where the matte varnish has been applied.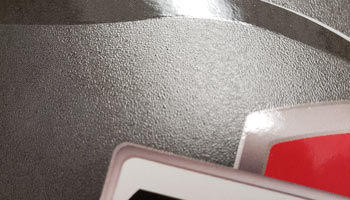 Reticulating Varnish
The reticulating strike through varnish produces a less uniform and textured look to the matte areas. This is because the reticulating varnish causes the gloss coating to separate and bead up.
THE COMPLETE PRINTING & COATING PROCESS
How we get your print project to POP!
Whether you are choosing to go with a traditional strike-through varnish effect or the more dramatic reticulating strike-through the processes on press are fairly similar.
Lay down ink
Coatings and varnishes are applied on top of the ink and substrate. These effects are only available via offset press. Since we use UV cured inks, the coatings and varnish can be applied inline immediately after the ink is laid down with no time wasted for drying.
Apply spot matte varnish
Varnishes are similar to inks in consistency and are applied the same way. An additional printing plate is made in order to apply the matte varnish in specific areas, just like a spot or PMS color. The varnish applied is different depending on desired effect.
Apply flood gloss coating
Coatings are thicker than inks and varnishes, so are applied using a special coating unit inline on our presses. Flood coating means it coats the entire sheet. This coating will repel or react with the applied spot matte varnish to create the dramatic change in sheen.
PRINT PROJECT PREPARATION
How to design and set up print files for varnishes
As with any project, the trick to getting the desired result is proper preparation. To achieve the striking combination of matte and gloss finishes, an additional offset printing plate is needed.
Project Setup
Start and save as you would any print job. Make sure your file is set-up in CMYK and any spot or Pantone colors are identified in your swatches. You'll also need crop marks and bleed. We prefer you provide us with print-ready PDF's when ready for printing.
Identifying Varnish
If you are using Adobe Illustrator or Photoshop, add an additional layer and label it. Whichever areas you are wanting us to cover with the matte varnish, fill those areas with a color different from the rest of your palette, typically 100% magenta.
Additional Protips
The reticulation or size of the texture is controlled by the amount of varnish we apply. Let your sales rep know if you want a more or less dramatic effect. We can change rollers in our presses to control the thickness of application and ultimately contrast.
VIDEO TUTORIAL FOR VARNISHES
Need a Guide:
Watch our Strikethrough
Varnish Tutorial
By setting up your design file correctly Cedar Graphics can create a unique effect with a mixture of gloss and matte finishes to make your design pop. Check out this video for step by step instructions.
Don't be afraid to reach out to us with questions. Cedar Graphics is fortunate enough to have many designers on staff to assist you in getting exactly what you imagined. Your sales representative is also available to provide you with ideas and examples of some of these stunning effects.
CONTACT CEDAR GRAPHICS
Need Help? Want an Estimate?