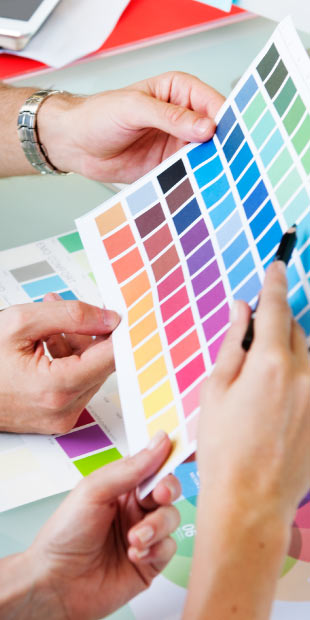 PRINTING TUTORIALS
The Best Printing Advice Comes Straight from the Printer
We do everything we can to help your print project look awesome. There are a few things you can do to make things easier for us. Those include using accurate die-lines, following our prepress tips, and a couple of other things we've learned along the way. Feel free to reach out to your sales rep our our prepress team for any specific questions you may have.
Print-Ready PDF's from Photoshop, Illustrator, and InDesign
A video walk-through on how to easily save/export a print-ready PDF using the Cedar Graphics PDF Output settings.
PRINTING PROJECT PERFECTION
Follow these tips for perfect PDF's every time

Make sure all fonts
are embedded

Document bleeds
should be 1/8"

No important info within 1/8" of edge

Images should be
300-350 DPI

Use CMYK color profiles,
not RGB

PMS colors are for
spot printing

Use 40/30/30/100 for
rich black

Use 100% Black for
small type

Carefully mind your
overprint settings

Carefully check your
doc size

Carefully check your
page count

We prefer single page print-ready PDF's
STARTING ON THE RIGHT FOOT
What we'll need to know to kick-start your print project
At Cedar Graphics, we have a ton of printing options. But, with just a few questions we can get you started on your next awesome printing project. These questions help us plan which press, paper, and delivery. If you don't know ask for advice. We're always happy to offer suggestions.
Five Questions for Print Project Perfection
How BIG?
From tiny stickers to trade displays and wall graphics, we print items of all sizes. The final size of your piece will determine which press and materials we use for your project.
What COLORS?
CMYK, three color, one color, white ink, PMS colors? Yep, we can handle that. We even have an ink lab in-house. Tell us what you're imagining and we can get you started.
How MANY?
Quantities of one to one million are no problem for Cedar Graphics. An accurate quantity will help us coordinate material purchases, shipping weights, even time on press.
On WHAT?
Our facility houses thousands of substrates ranging from papers to plastics in every color and thickness combo you could imagine. If we don't have it, all major mills deliver to us daily.
How SOON?
We're full of options when it come to finishing and delivery. Just let us know when and where you need it delivered and we can coordinate production as well as mail and logistics.
GET IN TOUCH
Have Questions? Need Help?
We want to make sure you love every project you print with us.
Feel free to ask us anything related to file preparation, paper recommendations, maybe even motivation – every little bit helps.