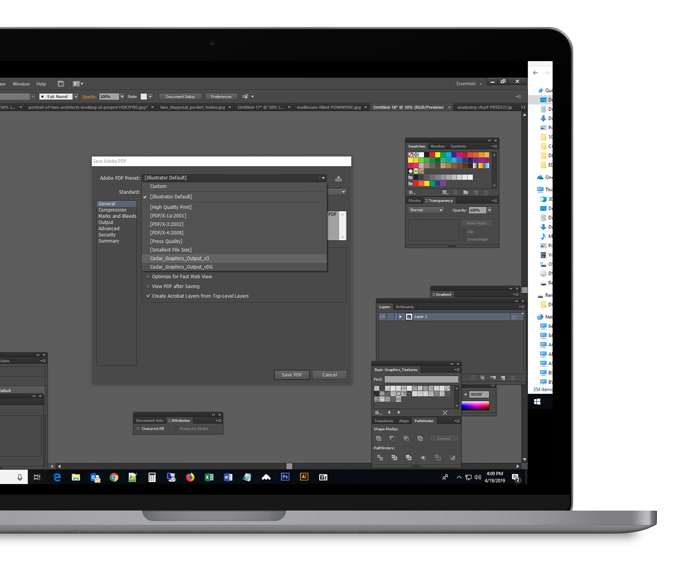 PERFECTING YOUR PRINTED PROJECT
PDF Presets and
Preflight Plugins
You've spent days, even weeks, designing and revising your print project and are ready to go to press. Don't fumble on the hand-off. Providing us with the right file format with the right details will insure that your print project is produced exactly as you envisioned.
We've created a few tools to help with proper PDF creation and even help you during the design process. If you need any help with installation of these, please don't hesitate to contact your sales representative or our prepress team.
PDF Presets
Set your PDF export settings to our perfect print specifications with just a few clicks. This install will add a new PDF save option with optimal printing standards applied.
Preflight Plugin
For InDesign and Acrobat, our preflight plugin supervises as you design. Errors like using RGB or low resolution images are identified early so printing is no problem.
Why save as a PDF?
Print files saved as PDF allow the greatest accuracy when printing. All important info like color builds, spot colors, layers, and fonts are included without having to import additional resources and locate missing links.
What is a PDF preset?
Saving as a PDF can be confusing, especially with so many options. This simple install will create a new PDF save options which automatically selects or deselects any of the necessary checkboxes when saving.
How do I install?
Download the appropriate version for your print project. For Adobe software users it's as easy as selecting Adobe PDF Presets from the File (Edit in Photoshop) menu. Then uploading the unzipped preset we provided.
DOWNLOAD CEDAR GRAPHICS PDF PRESETTINGS
The Perfect Way to Save for Print
Download and install the appropriate preset for your design software. The only difference between Standard Cedar Graphics presets and our Online Store presets is the addition of crop marks for standard jobs.
EASY GUIDE TO PERFECT PRINTING
Preflight on the Fly:
Use our PDF preflight
Adobe plugin.
An additional tool that will preemptively catch any file errors is our in-document preflighting for InDesign.
When installed and running, any errors will be noted along with details such as RGB images, low resolution graphics, missing bleeds, overset type, font issues and more.
Have Questions? Need Help?
Tell us about your project and we will quickly get back to you
ADDRESS
311 Parsons Drive
Hiawatha, IA 52233
EMAIL
info@cedargraphicsinc.com
PHONE
800.393.2399
319.395.6900