RAISED INK PRINTING SERVICES
Can You Really Print With Raised Ink?
Cedar Graphics' digital presses have the capability of printing with raised ink. These inks are similar to other inks used in our HP Indigos except there is no pigment, resulting in a clear ink. When printed on top of itself in layers it creates an effect similar to a spot varnish or spot UV except it is done on press and it can be printed variably. This means every piece can have a different raised ink design.
We can control the thickness of the raised ink depending on your design needs. From a subtle glossy watermark to a heavy coverage that you can feel three is a wide variety of choices and design opportunities.
Raised ink printing is perfect for short run printing projects without expensive set up and long turn times of traditional spot UV. Also, every printed piece can be printed differently, just like traditional digital printing.
More Design Options And
Even More Substrates
For designers, raised ink offers an easy alternative to spot varnishes and can add visual and tactile impact to any print piece. Business cards, book covers, cards, and more can have an eye-catching effect.
Easy to Set-up and
Perfect for Short-runs
With digital printing on our HP Indigos, raised ink is done on press and perfect for short runs, even variable data printing. Setup is similar to using a Pantone color and every piece we print can be different.
PRINTING INSPIRATION
Raised Ink Printing Portfolio
STARTING ON THE RIGHT FOOT
Kick starting your raised ink printing project
Printing with raised ink on our HP Indigo presses creates a new world of potential design choices. Taking advantage of these print capabilities is easier than you might think. Follow these few steps for perfect printing on your next raised ink print designs. The thickness of the raised areas is not driven by your design. Please inform us of how thick (watermark, medium , high, very high) you would like the effect to be.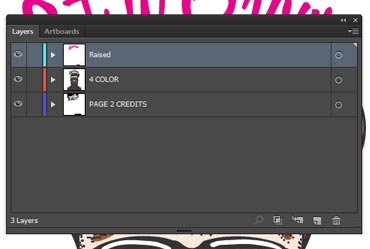 MAKE A NEW LAYER
When designing your print project you'll need to have everything that is to be printed with raised ink on it's own layer. If not visible, the layers tap can be found under the Window menu. For easy identification by our prepress team and software, please put this layer at the top of your document's layers. It helps to name the layer "Raised".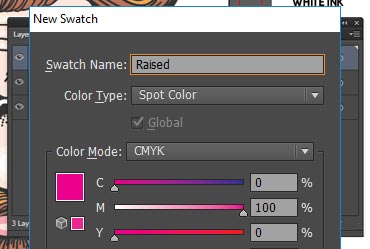 MAKE A SPOT COLOR
Next create a new spot color or channel. In Illustrator and InDesign this is found in your swatches panel. Your new spot color needs to be named "Raised", the capital "R" is necessary. For Photoshop users a new spot channel will need to be created.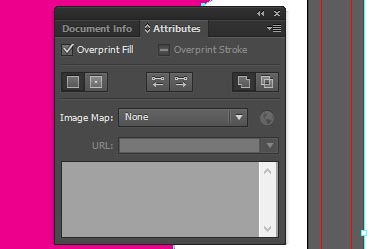 SET TO OVERPRINT
Overprint settings tell the press to print on top of the white ink instead of knocking it out. These settings are found in your Attributes panel. Look under the Window menu to activate your attributes panel. Select your white areas and check the box for overprint fill or stroke as needed. This will allow the white to be printed first, with your artwork on top.
LET'S PRINT SOMETHING AWESOME TOGETHER
Have Questions? Need an Estimate?