UV OFFSET PRINTING
A Brighter Option
For Your Next
Print Project
Why is UV Offset
Printing Different?
Most commercial offset and web printing presses utilize conventional inks which are solvent based. In order for these traditional inks to harden or cure, the solvents have to slowly leach into the atmosphere. As these solvents evaporate, the inks begin penetrating into the paper and eventually cure or harden. The time required for conventional inks to cure can vary greatly depending on environment and substrate. This slower curing process releases dangerous chemicals into the environment and allows ink droplets to spread into the substrate resulting in dot gain and potentially muddy imaging and text.
UV inks contain a combination of reactive monomers and photo initiators instead of solvents. These additions cause our inks to cure immediately when exposed to ultra-violet light.
OFFSET PRINTING WITH ULTRA VIOLET INKS
Why print with UV
Inks rather than
conventional inks?
When Cedar Graphics made the switch to UV inks for offset printing we knew it would be an investment of time and resources. In the decade since we've become a national leader in ultra-violet offset printing.
Now, with continuing investments in equipment, people, and processes we're printing faster and more brilliant than ever before. Plus, our customers are thrilled with the results.
PRINT QUALITY BENEFITS
Less Dot Gain
UV inks cure instantly when exposed to ultra violet light. This keeps the ink on top of the substrate with less dot gain, resulting in crisper imagery and more vibrant and consistent colors.
More Flexibility
Instant curing also allows design flexibility for printing on a wider variety of papers, plastics, and foils. The Ultra-Violet printing process also enables visual effects and tactile textures to be be applied on press, saving time and money.
ENVIRONMENTAL BENEFITS
99.5% VOC Free
Solvents contained in conventional inks leach organic chemicals called VOC's (Volatile Organic Compounds) into the environment during the curing process. Unlike conventional inks, UV inks do not use solvents and are 99.5% VOC free.
80% Less Energy Use
During the printing process LED lamps are used instead of blowers and dryers, resulting in up to 80% energy savings. Faster press make-ready also results in less paper and ink waste.
EXPERIENCE YOURSELVES
Better design choices when
printing with UV inks
Designing a print job for UV offset printing is no different than any other traditional print job.
However, there are smart design choices you can make to get the most benefits from ultra-violet inks.
CONSIDER YOUR SUBSTRATE
UV inks cure quickly on a wide variety of substrates beyond just paper. Consider tree-free substrates or colored paper stocks for your print design.
Our inks adhere wonderfully to unusual stocks and print vibrantly on luxurious uncoated papers as well.
DESIGN WITH CONTRAST
The rapid curing of UV inks allows for easy application of eye-catching coatings and varnishes. Consider using a combination of gloss and matte areas for a strike through effect.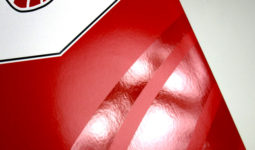 We can even apply custom print effects like a reticulating varnish or glitter coatings.
THE POWER OF TOUCH
Create a tactile experience with your print design with UV printing. Take advantage of smooth printing on textured substrates or experiment with grit or soft-touch coatings that can also be applied to your print piece.
Touch is a great way to make an impact, increase recall, and differentiate your printed pieces.
Light cured ink that is faster to cure
and quicker to impress
Not only do UV inks dry faster, they dry with more image detail,
more vibrant colors, and more durability.
Have Questions? Need an Estimate?
Reach out to us with questions or your project details and we'll get right back to you.
ADDRESS
311 Parsons Drive,
Hiawatha IA 52233
EMAIL
info@cedargraphicsinc.com
PHONE
319.395.6900
800.393.2399