OUR PRODUCTION FACILITY
A Modern Plant
with a History
of Excellence
When you work with Cedar Graphics, you'll get a company with a proven past, experienced professionals, and a focus on the future.
If you visit Cedar Graphics, you'll notice that some of the office decor reflects our company's history as a printer that has withstood the test of time. But what you'll also see is a vibrant, cutting-edge operation that is constantly evolving and utilizing the most current technologies.
What's more, many of the employees at Cedar Graphics have been in the printing business for decades. With their years of experience and continuous training on the latest processes, our veteran team is a tremendous asset to our clients.
Recommendations and continuous improvements from our dedicated staff help us deliver the finest quality, cost-savings, and most efficient production.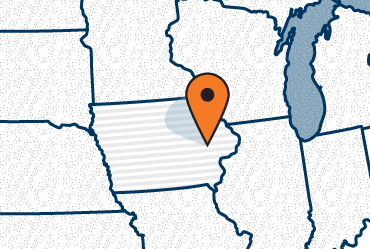 Strategic Midwest Location
Our award-winning 98,000-square foot print facility is strategically located in Hiawatha, Iowa, just 2 miles north of Cedar Rapids.
This centralized Midwest location allows for quick shipping around the country, with 85 percent of the country reachable by standard ground shipping in just 2-3 business days. We're also an easy drive from neighboring metros areas like Chicago, Minneapolis, Kansas City, and St Louis.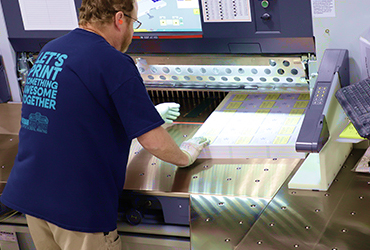 World-Class Print Bindery
When conducting tours of our plant, one of the comments we frequently hear is: "Your bindery is huge!" Well, not only are the post-press areas expansive at Cedar Graphics, our capabilities are almost unlimited.
With equipment including folders, trimmers, and stitchers, to more demanding processes like wire-coil binding and tinning, our bindery can handle both complex and straightforward projects.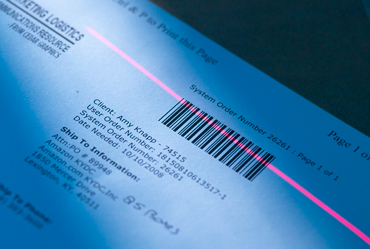 Print Fulfillment & Logistics
Managing storage and fulfillment of your materials with ease, thanks to our professionally-staffed fulfillment and logistics departments. We process bulk domestic and international orders as well as simple pick and pack even LTL shipments.
Additionally, Cedar Graphics provides print-on-demand services and custom XML integration, to help decrease turn-times, minimize the costs of production, and waste.

UV Offset Printing
Our ultra-violet offset printing cures inks and specialty finishes instantly, resulting in sharp and vibrant printing plus additional flexibility with unique substrates and coatings.

Digital Printing
With a fleet of HP Indigo presses and dedicated digital finishing equipment, we can conquer short runs and variable data printing jobs with speed and award-winning quality.

Wide Format Printing
Experience our same quality, only BIGGER! Housing both flat-bed and roll-fed presses, we can complete virtually any wide-format project you can imagine on tons of substrates.

Web to Print
Our white-labeled custom print storefronts allow for easy online customization, proofing, and ordering while maintaining brand consistency and controlling budgets.
LET'S PRINT SOMETHING AWESOME TOGETHER
Extensive Digital Prepress
Although it's now become industry standard at major printing companies, Cedar Graphics was among the first printing operations in the U.S. to implement a 100 percent digital prepress workflow.
In addition to perfecting the technology over the years while completing thousands of projects, Cedar Graphics continues its aggressive investment in R&D to offer the industry's best-in-class color-profiled proofing, plate-making, and printing options.
What does all of this technology mean to you and your project? Exceptional image and text quality, increased color accuracy, easier proofing and faster turnaround.
In-House Ink Mixing Lab
Cedar Graphics takes quality control and color accuracy to the highest level with an in-house ink mixing lab. By mixing our own inks, we ensure the most accurate colors possible with superior product quality - faster.
As part of this process, Cedar Graphic partners with Wikoff Color Corporation, one of the largest and most respected ink manufacturers in the United States. Wikoff produces a full spectrum of tailor-made inks to maximize our efficiency and provides an us an in-house expert.
This combination of ink and coating experts means beautiful color replication and crisp printing every time. We're sure you'll be impressed.
Climate-Control Ensures Quality
Crucial print materials including inks, paper, water, and chemicals can all be affected by high humidity, static electricity, even air temperature.
By carefully controlling the humidity and temperature throughout our massive facility on a year-round basis we are able to avoid many common printing pitfalls, ink dries properly, adheres to substrates with minimal issue, papers behave as they should, and problems with static electricity are minimized.
As a result, Cedar Graphics is better able to deliver the utmost in quality, eliminate waste and speed up production time.
GET IN TOUCH
Let's Print Something
Awesome Together
Kick start your project with great printing advice or an estimate. We're happy to help.